Renovation works started at our restaurant in 2013, until 2014 when it took its final form. There has since been a new kitchen with professional, brand new, cutting edge technology  equipment for the food's preparation and serving.
In advance, significant improvements have been done in the wider dinning area where children have their meals.
A big group of people hold responsibility of the preparation and serving of the meals, so as food is always healthy and tasty for our campers!
Children take their place at the dinning area in turns, based on their house and section and they get served by the camp's staff.
Below, you can see our weekly menu!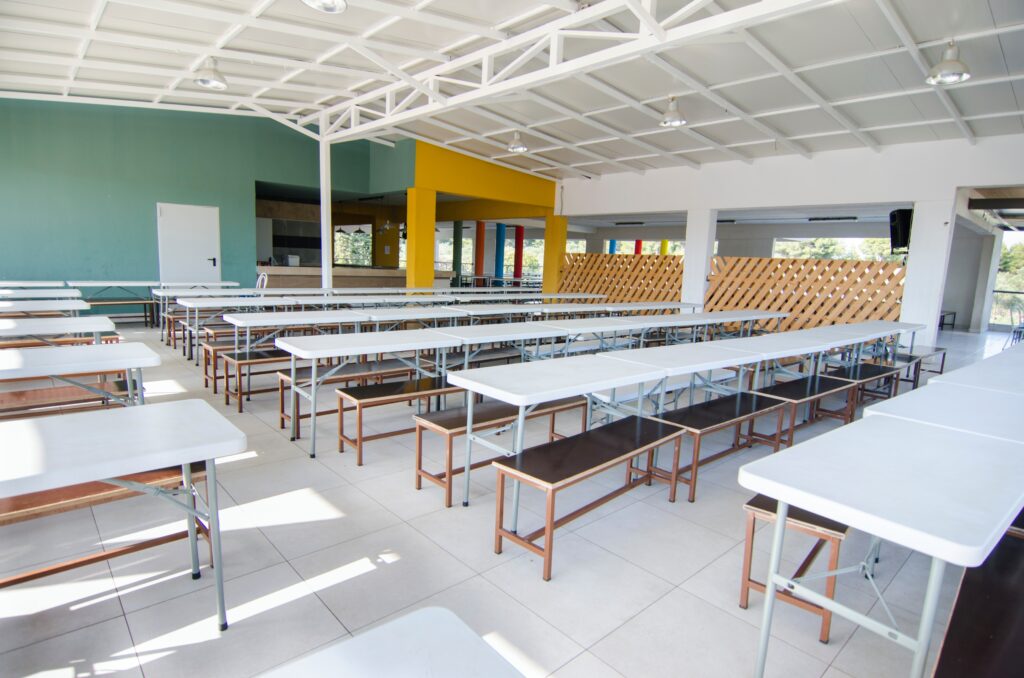 Lunch :
Chicken with rice, salad
Dinner :
Macaroni in tomato sauce, feta cheese
Vegetarian option: Green beans
Lunch :
Meat balls with baked potatoes or lentil soup, salad
Dinner :
Calzone and juice
Vegetarian option: Lentil soup
Lunch :
Baked pasta with sauce and meat, yogurt sauce (tzatziki)

Dinner :
Penne carbonara, feta cheese
Vegetarian option: Vegetable patty
Lunch :
Fish fingers with baked potatoes and carrots, salad
Dinner :
Pizza and juice
Vegetarian option: Pizza margarita
Lunch :
Steak with french fries or green beans, salad
Dinner :
Spaghetti Bolognese, yogurt dessert
Vegetarian option: Peas
Lunch :
"Soutzoukakia" (minced meat balls) with rice and peas, salad
Dinner :
Hot dog
Vegetarian option: Bean soup
Lunch :
Chicken nuggets with mashed potatoes, yogurt sauce (tzatziki)
Dinner :
Hamburger
Vegetarian option: Mix vegetables with rice
* Lunch is accompanied with  bread and fruit daily
** The menu may differ due to possible shortage of certain supplies or any other important reason
*** Before your arrival, you should inform us about any special dietary requirements